Volkswagen Dune Buggy cars for sale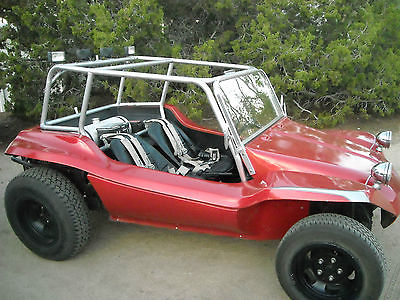 $3,800
Palmdale, California
Category -
Mileage 99999
Posted Over 1 Month
NO RESERVE ! NO RESERVE ! Street legal dunebuggy registered and titled as 1967 volks with 67 1600cc single port engine runs perfect, super dependable and trouble free sits for weeks then starts right up first turn. Shifts great with the $1500.00 close ratio transmission in it or switch out for the extra INCLUDED 1967 stock transaxle to get taller highway gearing and or sell the spare and recoup some money . Manx style body in very good shape other than a couple of small cracks at back over engine. Aluminum top cover is over a great fitting roll bar and has no rattles or noise (unlike soft tops) because of foam gasket and removes easily with four wingnuts. I took seats out for a few pics so you can see how great of shape the floor pan is in. Very nice running and fun car ! 1. New tires, 2. aluminum u.s. dish indy wheels 3. removable side pods 4.rear disc brakes, 5. 4 point harness belts 6. spare transmission, headlights, axel boots 7.led tail/brake lights 8. red orange with multi color metalflake CALL FOR QUESTIONS 661 361 9696 I WILL ONLY ACCEPT CERTIFIED BANK CHECK, CASH OR WIRE TRANSFER FOR THE BALANCE DUE ! I WILL NOT ACCEPT ANY OTHER PAYMENT METHOD! THANK YOU THIS DUNE BUGGY IS BEING SOLD AS IS AND ALL SALES ARE FINAL. MUST BE PICKED UP WITHIN 5 DAYS FROM WHEN THE AUCTION ENDS UNLESS PRIOR ARRANGEMENTS HAVE BEN MADE WITH THE SELLER BEFORE YOU PLACE A BID. A 250.00 NON REFUNDABLE PAYPAL DEPOSIT MUST BE RECIEVED WITHIN 24 HRS OF THE AUCTION ENDING. IF NOT RECIEVED WITHIN THAT TIME I HAVE THE RIGHT TO SELL TO ANOTHER BIDDER.WINNING BIDDER IS SOLEY RESPONSIBLE FOR PICK UP OR SHIPPING OF THE VEHICLE AND MAKING ALL ARRANGEMENTS. I HAVE THE RIGHT TO END THE AUCTION EARLY AS IT IS FOR SALE LOCALLY !
Trim dune buggy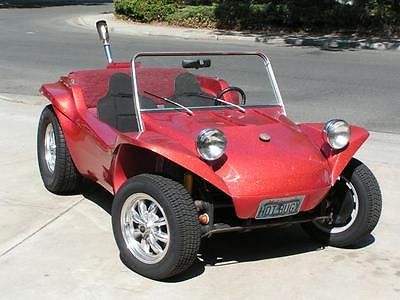 $5,000
Sacramento, California
Category -
Mileage 76375
Posted Over 1 Month
Awesome 1971 Manx Style Dune Buggy. Low mileage, Street legal. This vehicle is a beauty! If you've been looking for an amazing 1970's Dune Buggy, this is the one! No frills, just plain awesome.Below are some highlights of this car.Manx BodyDual Solex CarburetorK&N Air FiltersHeaders w/Supertrapp ExhaustChrome Dress KitLED TaillightsSpirit of America Aluminum WheelsIncluded Tow Bar75% tread life left on BFG tires. Brakes, Clutch, Axle Boots are all in good working order.Custom red flake paint.
Trim Dune Buggy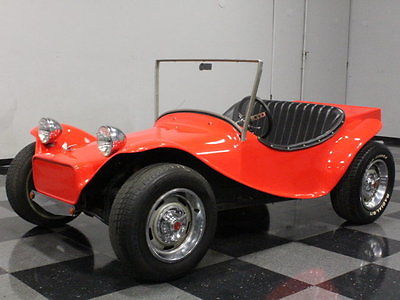 $9,995
Lithia Springs, Georgia
Category -
Mileage -
Posted Over 1 Month
Got a classic car to sell? We can Sell it! Call us Today! 1967 Volkswagen Dune Buggy Stock #2223-ATL 1967 Volkswagen Dune Buggy for Sale Charlotte Showroom 5400 West WT Harris Blvd Charlotte, NC 28269 Local/International: (704) 598-2130 Toll-Free: (866) 542-8392 Hours: Tues - Fri: 9AM - 6PM EST Sat: 9AM - 5PM EST Email: [email protected] Atlanta Showroom 213 Thornton Rd Lithia Springs, GA 30122 Local/International: (678) 279-1609 Toll-Free: (877) 367-1835 Hours: Tues - Fri: 9AM - 6PM EST Sat: 9AM - 5PM EST Email: [email protected] Dallas/Fort Worth Showroom 5400 Sandshell Dr Fort Worth, TX 76137 Local/International: (817) 764-8000 Toll-Free: (855) 877-2707 Hours: Tues - Fri: 9AM - 6PM CST Sat: 9AM - 5PM CST Email: [email protected] VEHICLE SPECIFICATIONS ENGINE: 1493 CC BODY STYLE : Roadster TRANSMISSION: Manual EXTERIOR COLOR: ODOMETER READING: 0 INTERIOR COLOR : VEHICLE FEATURES & OPTIONS Seatbelts, Vinyl Interior SELLER REMARKS This 1967 Volkswagen dune buggy is the automobile distilled into pure fun. Sure, it's still transportation, but this car was built to put a big grin on your face and nothing else. It offers lots of recent work, so it's not only great looking but also ready to enjoy. We can all but guarantee you'll be the only guy tooling around in one of these even though the look is instantly familiar. Unlike, say, the Myers Manx, this is strictly a 2-seater and that gives it neat proportions that look great, as if it were a cross between a dune buggy and a T-bucket. Long, flowing fenders contrast with the squared-off deck in back, but the whole design is very professional and well-executed so nothing looks sub-standard. Repainted two years ago, the fiberglass is in good condition with no major signs of age and a great gloss that's quite appropriate to something of this vintage. This is motoring down to its barest essence, so there isn't much chrome save for the bug-eyed headlights up front and that big, upright windshield. In back, the VW Beetle engine becomes an integral part of the overall look and it's fascinating to watch this sucker run down the road. More minimalism inside where simple pleated black vinyl looks good, wears well, and is weather-resistant enough for its alfresco duties. Hop over the side of the tub and it's easy to settle in behind the wheel and you'll find that the driving position is more early British roadster than German economy car, and with those big pontoon fenders out there, you can clip apexes more easily than you ever thought possible. Creature comforts are few and that's entirely the point here; anything that wasn't necessary for the job of having fun was omitted. That means no windshield wipers, no heater, not even a radio, simply because you'll be blasting along having too much fun to need to worry about additional entertainment. The VW's original gauge pod was neatly installed in the dash and aftermarket turn signals are affixed to the side of the steering column for safety's sake. Floor coverings are institutional and easy to maintain, which is this car's mantra. VW's air-cooled flat four needs no introduction, and this 1493 cc unit provides plenty of power for the flyweight dune buggy. Painted bright red to match the bodywork, the engine is equipped with the usual hop-up parts, including a bigger carburetor that was installed in June 2014, and exotic exhaust headers with chrome tips that are as much styling element as noise suppression system. The Beetle's 4-speed manual transmission and floor pan made the transition intact and with the low center of gravity, handling is adept. Obviously this was never someone's winter beater, so the underside remains in very good order with no glaring trouble spots. Lots of finned aluminum helps with the air-cooled engine at seed and you'll undoubtedly find that this car loves to play. Oddly enough, GM Rally wheels bolt right on and now carry 205/70/15 front and 235/60/15 rear tires that look positively gigantic on the tiny car's frame. This car also comes with a tow bar to be used behind, say, an RV, suggesting that someone has already realized that a vacation on wheels is what this car is all about. Call today! 1967 Volkswagen Dune Buggy for Sale 1967 Volkswagen Dune Buggy for Sale Stock # 2223-ATL Charlotte Showroom 5400 West WT Harris Blvd Charlotte, NC 28269 Local/International: (704) 598-2130 Toll-Free: (866) 542-8392 Hours: Tues - Fri: 9AM - 6PM EST Sat: 9AM - 5PM EST Email: [email protected] Atlanta Showroom 213 Thornton Rd Lithia Springs, GA 30122 Local/International: (678) 279-1609 Toll-Free: (877) 367-1835 Hours: Tues - Fri: 9AM - 6PM EST Sat: 9AM - 5PM EST Email: [email protected] Dallas/Fort Worth Showroom 5400 Sandshell Dr Fort Worth, TX 76137 Local/International: (817) 764-8000 Toll-Free: (855) 877-2707 Hours: Tues - Fri: 9AM - 6PM CST Sat: 9AM - 5PM CST Email: [email protected] TERMS OF SALE 1. Per the eBay User Agreement, by placing a bid you are entering into a legally binding contract and are committed to purchasing the vehicle described above. The details of this commitment are further outlined in the eBay User Agreement. 2. Vehicle may be sold by Streetside Classic Cars prior to the end of the auction. Streetside Classic Cars reserves the right to end its auctions early or to cancel bids solely at its discretion and shall not be held liable for any such cancellation. 3. The winning bidder is required to contact Streetside Classic Cars within 24 hours after the close of the auction to finalize the details of the transaction. 4. A $1,000 non-refundable deposit is required within 48 hours of the auction's close. This deposit reserves the vehicle and removes it from the market. Acceptable payment types for deposit are: credit card, wire transfer, cashier's check, and money order. 5. If winning bidder does not contact Streetside Classic Cars and submit deposit within 48 hours of auction close, vehicle may be made available to the next highest bidder or another qualified buyer on a first come, first serve basis. 6. Streetside Classic Cars has represented this vehicle to the best of its ability. Prospective bidders are encouraged to contact us directly to provide additional information or answer any questions. 7. Please be aware that all pre-owned vehicles, regardless of age, mileage, or manufacturer are subject to cosmetic wear and mechanical failure. Streetside Classic Cars encourages bidder to have a personal inspection completed prior to delivery to help ensure your satisfaction. Third party inspections are to take place prior to a vehicles shipment or delivery. 8. All vehicles are sold "AS IS" and with no warranties expressed or implied. 9. Final or winning bid price does not include shipping, tax, title, or registration fees. It is the purchaser's responsibility to provide for any state or local taxes and shipping expenses resulting from the sale. 10. We can assist you in delivery through our network of private and commercial carriers. Most of them can deliver the vehicle to your driveway. We assume no responsibility for damages or delays incurred once a vehicle is in a shipper's custody. 11. Streetside Classic Cars bears no liability and shall be held harmless for any complications, expenses, or damages resulting from a failure to meet these terms as they have been set forth and established herein. 12. An additional documentation fee of $199 will be added to the purchase price at the time of sale. DISCLAIMER This site and all advertising information may be updated without notice whenever new information is obtained and may contain mistakes and inaccuracies. Information is provided to the best of our knowledge and that of the owners of the vehicles, and we make no warranty or representation regarding the accuracy, truth, or reliability of such information. We cannot be responsible for any errors, omissions, or inaccuracies contained in information provided by third parties. Streetside Classics is not an expert in the construction, engineering, finishes, materials, and componentry of every single vehicle we sell. It is the responsibility of the buyer to either inspect the vehicle personally or via a 3rd party, to ensure satisfaction to the condition and value, prior to purchase. Streetside Classics strives to perform extensive visual inspections on all vehicles we represent but we do not disassemble vehicles or components for inspection purposes and therefore it is always possible that there is hidden damage that is not readily apparent. All vehicles are sold AS-IS with no warranties expressed or implied. WE WELCOME INTERNATIONAL BUYERS As an international buyer, it is as easy to purchase a vehicle from us as it is for any domestic buyer. Please call or email any one of our showrooms at: Charlotte Showroom Phone: 001-704-598-2130 Email [email protected] Atlanta Showroom Phone: 001-678-279-1609 Email [email protected] Dallas/Fort Worth Showroom Phone: 001-817-764-8000 Email [email protected] Rest assured, you are dealing with one of the largest classic car dealerships in the United States with one of the largest (500+) vehicles on display. Our sales staff is very knowledgeable and can assist you in every aspect of the purchase. International buyers welcome! Click here for an estimate. If you decide to purchase from us, we require that you give us your complete name, address and phone numbers (home, office, mobile and fax) and a port of entry that handles containers. We do not ship vehicles open (RORO: Roll On Roll Off) due to risk of damage to vehicle and theft of parts. All international purchases must be paid by bank wire transfer in US Dollar funds only. Once we have received the funds, we will prepare the car for international shipment through one of our approved land and ocean carriers. We file all the necessary documents for export, deliver the car to a US port, secure it in containers and board an ocean carrier. We can land a vehicle to any port worldwide handling container traffic. We export cars regularly and are familiar with export requirements. You, or your agent, are responsible for Custom clearing the vehicle and registration in your own country.