Oldsmobile Hurst Cars for sale in Vermont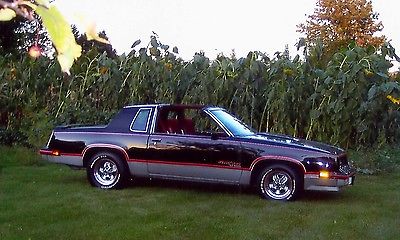 $27,000
Grand Isle, Vermont
Category Sedan
Mileage 27000
Posted Over 1 Month
1983 Oldsmobile Hurst/Olds 15th Anniversary Edition. 27,000 actual miles. Trophy winning survivor! 100% original numbers matching. This Hurst Olds is #2650 out of 3001 built. Full documentation from original owner including original window sticker, pre-delivery inspection checklist, original owners manual and warranty booklet and more. Under the hood you will find original factory tags and markings. 100% untouched factory original paint. Steel chrome wheels are perfect inc. pin striping. Equipped with factory T-Tops including original storage bags. Lightening rod shifters, GM 2004R four speed automatic.
Trim Hurst Olds package
$33,700
Plymouth, Vermont
Category -
Mileage 45145
Posted Over 1 Month
1970 Oldsmobile 442 W30, History on this W30 is as follows: Born a W30 and I have insurance docs. from 1993, original owner docs. and some other loan stuff to verify past owner history.I DO NOT HAVE BUILD SHEET. These Lansing cars just did not have them very often. But if you send any knowledgeable Olds guy. They can verify 99% as I have had done twice.All components are there and numbers are correct for W30. This was a Fl. car until 1993 when it was purchased and restored to its present condition.(I have a muscle car magazine article about this restoration and also further verifies W30) Has had some work on body such as: rear quarter patch, floor patch and other minor body repairs and then was painted White pearl with yellow W30 stripes.(painted on) The factory color of this car is Sherwood Green.The original numbers matching block is out of the car and preserved and wrapped. A factory replacement block, date coded and correct for 1970 W30 (worth over 5k. itself)is in the car and is very solid with a recent rebuild to W30 specs. And in fact, everything internally and externally were swapped over from numbers matching block into, and on this block.All the numbers on the exhaust manifolds, intake, heads, and dist., carb., OW H.D. Turbo 400 w/factory shift kit are original(rebuilt) and CORRECT.Has the original HD cooling package, 4 core radiator, oil cooler, ram air hood, ram air intake, all original. Vin# 344870M207384.Original Red inner fendersAir induction hood and air cleaner (W25)-originalBorn with, F cylinder heads-originalW and Z exhaust manifolds.-originalDist.-1111979-originalQ. jet carb-7040526-originalBlock casting-396021-F in car and another block(the original, preserved) out of car with vin stamp below #1 cylinder that matches vin on car.-originalIntake casting # 406115, and Olds. W-455 casting stamp.-originalDiff # SF (only with air and auto) 3.23:1 posi rear.-originalHurst dual gate shifter-original Following options had to be on car for it to be W30:Boxed lower control armsSway barDisc brakesNo sound deadeningOW trans stamped OW 1970Original rally rims.Original Tic Toc Tach, rally gauge package.AC original and works!Has all of them and they are all original to car. The car will do 0-6 in 5.5 and 13's in the 1/4 mile.Spins the tires when you punch it at 45mph. very fast car!Please bid according to description and pictures.Send anybody you want to inspect and check numbers.(very complete W30)Any questions please send email through ebay or call me at 8022742877I have lots more photo's. text your email.Bid with confidence, This is a very solid authentic W30. Drives down the road smooth, powerful and stays cool.No knocks, noises, shakes or anything at all. Turn key and ready for the shows. Thank you. On Jan-10-16 at 20:01:18 PST, seller added the following information: I have had many requests for a buy it now, so here you go.On Jan-11-16 at 09:21:26 PST, seller added the following information: That's 0-60 mph in 5.5sec. sorry for the typo.On Jan-13-16 at 19:03:25 PST, seller added the following information: Typo. on carb. number.Q. Jet carb.# 7040528 which is correct for Auto trans.I can post picture of the numbers if anybody needs them..Send me your contact info.Or, call me for text picture.8022742877 Sorry about that.On Jan-14-16 at 08:42:45 PST, seller added the following information: hi more pictures here.https://dropbox.com/s/ujb46ml038dzqtb/W30%20072.jpg?dl=0On Jan-14-16 at 08:52:28 PST, seller added the following information: sorry try this https://dropbox.com/sh/yzx81ou81wngkbz/AAAblVqRrUVTD5-6-frzeVzAa?dl=0On Jan-18-16 at 13:47:50 PST, seller added the following information: Forgot to mention. New tires, brakes all around, calipers, rotors, U+L control arm bushings, spindles and bearings,  U+L ball joints (riveted oem type)tie rod ends, rear brakes, calipers etc. Essentially front end has been gone through and everything replaced if it needed it or not. E-brake works. Thanks.On Jan-18-16 at 19:36:26 PST, seller added the following information: Tires are new Firestone Wide Ovals.On Jan-18-16 at 19:52:22 PST, seller added the following information: I added some more pictures to the dropbox link above. Just highlight link and copy, paste or click on right mouse button. Relisted due to non payer.
Trim 442