Dune Buggy Cars for sale in Tennessee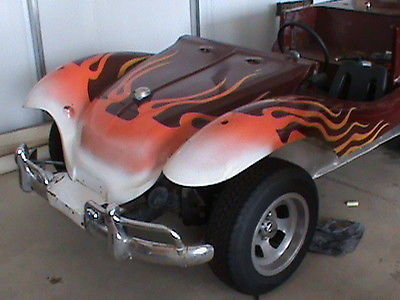 $2,200
Jonesborough, Tennessee
Category -
Mileage 10000000
Posted Over 1 Month
1978 VW dune buggy project. Front is fiberglass and rear is metal. Much safer and more rare than all glass. So far I have installed a used motor with all new coil, distributor, plugs, wires, cap and rotor. Brand new tires with zero miles. New clutch, pressure plate. New ignition swich with keys. New exhaust header. I think I everything to complete the project and a jeep top I bought and was going to make a frame for it. Has wind shield, lights, and bunch of extra parts. Clear TN title. Needs finishing. Will be worth the effort! I will include a towbar for pick up. Tows easy and with just about anything with a hitch. 300.00 PayPal payment due at end of auction. Balance within 5 days paid in cash. Buyer to arrange shipping or pick up.

$6,000
Mount Carmel, Tennessee
Category -
Mileage -
Posted Over 1 Month
You are looking at a very cool Sandrail Dune Buggy. It is titled as a 1974 VW Beetle and has a 1600 dual port engine and runs like a top. This buggy has Hydraulic Rear Disk Breaks, Hydraulic Clutch, Steering Brakes and racing seats with a 5 point harness on both seats. The tires are new and the headlights, tail lights and signals all work. If you have any questions you can email, call or text me at (423)292-2069. Thank you for looking and have a great summer.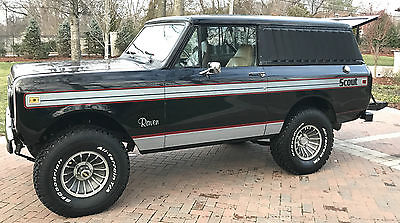 $28,500
Nashville, Tennessee
Category -
Mileage 34485
Posted Over 1 Month
1980 Scout II - Factory Raven Edition For Sale is a 1980 IHC International Scout II Raven CVI (Custom Vehicle Incorporated) edition. This is a rare model of the Scout and one of very few survivors of it's kind that remain out there today. Only a handful were produced through CVI. These were dressed-up Scout models with special exterior decals and trim, center console coolers, hood scoops, and some editions had plastic window louvers on the rear side glass, fender flares, and two different plastic tailgate inserts. This Scout is very solid, and has been garage kept for the majority of it's 34 year life. I am the third owner. The previous owner purchased it from a big rig dealership in southern Virginia, Goodwin Truck and Tractor, who held on to it in 1980 as it was the last CVI they had left over when Scouts went out of production that year. The vehicle went to Pennsylvania with the owner's relative for a brief period of time, and then was brought back to southern Virginia where it spent the duration of its first decade at the dealership in a silo style weather proof building on the dealerships premises. He came across this Scout in 2007 and purchased it from the elderly dealership owner who was not really interested in selling at the time, but he made him a nice offer. This Scout has the original everything in the drive train. A 345 V8 engine and automatic transmission. The mileage on the odometer is 34,485 which is short of the actual amount. The speedometer was replaced prior to my purchasing the vehicle by the dealership. The actual mileage is somewhere around 50K. It has a flow master custom built exhaust, electronic ignition installed in distributor, and a brand new battery. The Scout sits on it's fully restored original poly-cast wheels with brand new 33x10.50/15 BFG All Terrain Tires (less than 150 miles) and a 4" suspension lift. It cranks, runs, drives down the road, and functions great - it truly starts on the first bump of the ignition every time, just like it was fuel injected. The four wheel drive functions as it did from the factory however it has never been off road. Four wheel drive engaged only for maintenance. Windshield wipers, washers, signals, taillights, headlights, interior lights, everything down to the AC functions however the AC needs a charge. The locking hubs were upgraded to WARN manual hubs back in 2007 when the prior owner purchased it. He also replaced some rusted metal in the drivers floor pan with fresh, factory-correct panels. All the original labels, and paperwork are available to include the line setting ticket where it was designed and built in the factory back in 1980. Also, the original CVI equipment to include the tailgate insert, side louvers, rocker covers, and interior console are in great shape and in place (see pictures). The Scout has been kept in a garage since purchasing it from the original owner in 2007, and has only been driven for leisure and maintenance. The oil used is Mobile 1. Filters are K&N (Oil and Air). The interior is clean and sharp. There's a Kenwood cd player in the dash. Like all scouts, the top comes off, and I will include a convertible top with the purchase. The Scout is located in Nashville, Tennessee. I will consider reasonable offers. If interested feel free to contact me at the number listed within this listing.off-road, dune buggy, convertible, travelall, midnight star, classic, rat rod, Binder, tractor, farming equipment, Jay Leno, collector, Bronco, Blazer, Jeep, CJ, Hummer, H1, H2, H3, H4, Explorer, John Deere, Silverado,
Trim Scout II Raven Edition