Chevy Cavalier Z24 Cars for sale in Michigan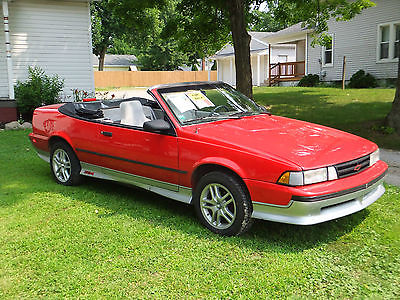 $1,999
Hudson, Michigan
1989 Chevy Cavalier Z24 Convertible with a 5 speed manual and the fuel injected 2.8 V6 engine. Runs very well. Driven all summer without issue, over 5000 miles in a few months. Regularly 26-30 MPG. Loves the highway! Bump the key and go, starts first time every time regardless of weather. Everything works except A/C. All power options function as intended, although passenger window is notably slower than the others when rolling up. Stereo sometimes does not play through R speakers and does not play cassette tapes. Completely Safe and Road-Worthy; delay/low/high wipers, all interior and exterior lights, turn signals, climate control (defrost and all fan speeds)...all function properly. Cruise Control works correctly. New Directional tires on non-original rims, upsized to 15s but tire sidewall was reduced to be within 1/2 MPH at 60 MPH = buttery smooth ride. All gauges read accurately and work properly. Any problems corrected, any maintenance addressed: New Windshield <500 miles ago. New Plugs, Wires, Coils, Vacuum lines, MAP sensor, oil change, air filter, fuel filter, intake and plenum cleaned. Recent (prior owner) front and rear brakes, exhaust from firewall back (no cat converter), upsized fuel injectors, suspension. Prior owner had it repainted Mopar High Performance Red, a Viper color, which shines very nice and was professionally done (have paperwork), still looks excellent and reflects wonderfully. Door jambs and all panels painted but under hood, firewall and trunk interior NOT painted to match. Body is surprisingly solid for being 25 years old. NO RUST in doors, trunk lip, exterior except the spot pictured on the driver rear quarter and a small spot (hide under a dime) in the drivers door jamb. The top, also new courtesy the previous owner but starting to show signs of wear, does not leak - have driven in the rain and have never gotten wet or even dripped on. However, the cowl was clogged with debris when bought; the firewall and floorboard had SERIOUS rust issues that were corrected with non-professional panel replacement, silicone caulk (pictured) and undercoating. Replaced carpet with ACC custom carpet at that time. Did not leak all summer, but with windshield replacement the seal was broken and water now drips in under hard rain. Window weatherstrip does leak under hard rain. Replaced several parts with NOS or nice used parts to make car function correctly. Oddly, does not have the trunk lid luggage rack; only one I've seen like that. Overall, a cleaner-than-average, nice DRIVER quality car that turns heads everywhere it goes. Someone removed the cap to the IAC screw; I have it pretty close, but sometimes the Check Engine light comes on or it idles erratically until the computer corrects; however minute, I want to provide a very detailed description. You can Drive It Anywhere, I have driven the heck out of it and would not hesitate to drive it across the country right now. Fly in, drive it home, ZIP code irrelevant. Even has a full tank of fuel! Heck, I'll drive it to YOU if we can work that out. Please review pictures, as they're the best description of the car's condition. Happy to answer any questions. REQUIRE $500 paypal deposit upon purchase; balance due either through paypal or upon pickup. We have 100% perfect feedback and pride ourselves on honest descriptions but occasionally I might overlook something that is very important to you; please thoroughly investigate the pictures, and ask questions if not certain. This car is advertised locally, and should it sell locally first I reserve the right to cancel this auction if the car is no longer available for sale. It is driven regularly, so the mileage WILL increase. Good luck, and Thank You for Looking!
Trim Z24 Convertible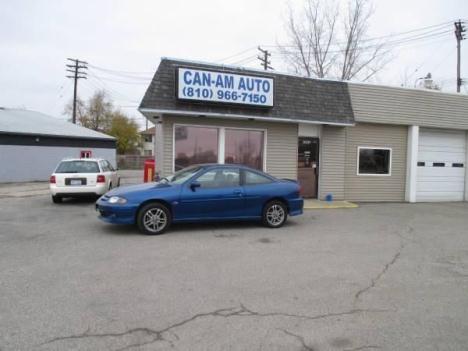 $3,995
Port Huron, Michigan
Category -
Mileage -
Posted Over 1 Month
Mint condition, 2 door, 2.4L/I4, auto, front wheel drive, air, tilt, cruise, pw/pl, CD, moon roof, alloy wheels, key less entry, 55k actual miles, 30+mpg, super clean, very reliable, well maintained, runs/drives great, rare canadian version Z24, trades welcome, call 810-488-6745!